What are the Differences Between Indian and Thai Food?
There are many cuisines in the world and two of the most loved ones are Indian cuisine and Thai cuisine. Indian cuisine is a mixture of a variety of regional and traditional cuisines native to the Indian subcontinent and influenced by cultural choices.
On the other hand, Thai food is the national cuisine of Thailand and is different from Indian food. If you want to know more about Indian food vs Thai food, let's dive deeper into it.
Is Thai and Indian Food the Same?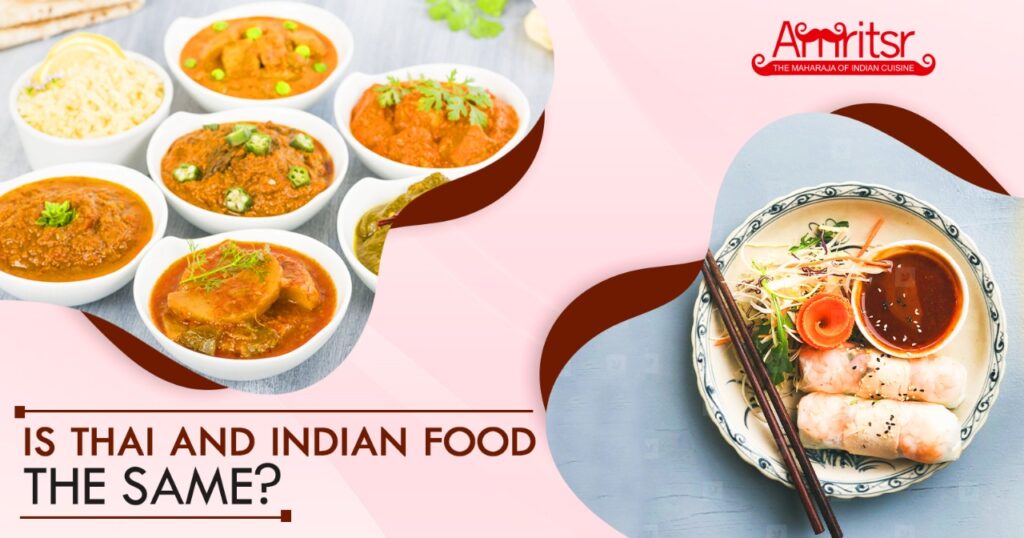 The answer is a big YES! There are many differences between Thai and Indian food. Indian food, on one hand, uses a combination of Indian food spices as a rub on the vegetables and meat.
The food may or may not be cooked in tomatoes but is not heavily saucy. Thai food, on the other hand, uses a variety of pastes made from fresh ingredients.
The level of spiciness is also different in both types of food. But what they both share is the richness of flavour in the foods. But aside from that, the spices and ingredients used in Thai and Indian food are almost different.
Is Thai Curry Similar in Taste with the Indian Curry?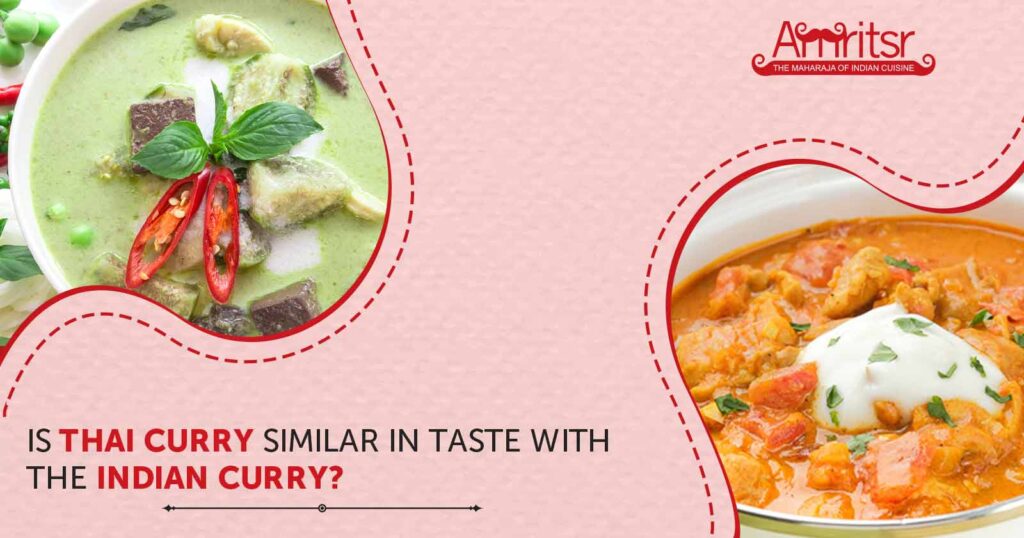 The answer is no, ask any food lover. While Thai curry and Indian curry share some common ingredients such as ginger, garlic, turmeric, cilantro, they are quite different apart from that.
Thai curry heavily relies on the usage of coconut milk, whereas the Indian curry is about the sauciness and spiciness. The other major difference between the two curries is that Indian food relies on cream and ghee, but Thai food uses dairy products.
In short, Indian curry and Thai curry are not related and do not taste similar at all. Both have some amazing differences making them special in their own ways. 
Ingredients Used in Indian Food and Thai Food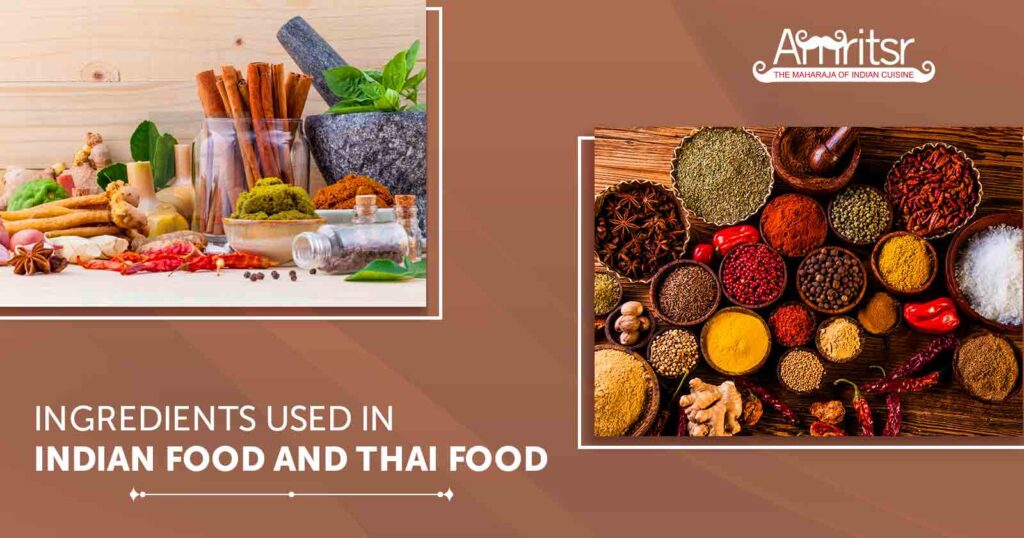 Thai food uses a wide variety of ingredients such as lemongrass, red hot chillies, garlic, ginger, shrimp paste, and dried herbs such as the coriander seeds, cumin, and turmeric.
These fresh ingredients make your food spicy and flavourful. Thai cuisine draws great influence from parts of Eastern Asia. 
Indian food, on the other hand, relies heavily on herbs and spices like powdered chilli pepper, black mustard seeds, cardamom, cumin, asafoetida, ginger, coriander, and more to provide strong and intense flavour.
They're mixed with dal, a puree of chickpeas or other lentils, or with oil, ghee, or yogurt. Indian cuisine draws great inspiration from Central Asia. 
Indian Food in Bangkok
Bangkok is a place full of excitement and adventure, with the delicious being the best part of the vacation. If you are travelling or are a permanent resident there, you might take some time to get used to the foreign taste of food and miss the Indian food in Bangkok.
If you are searching for restaurants offering North Indian food in Bangkok to satisfy your craving for butter chicken and more, Amritsr Restaurant is truly a great option.
Approximate Price for Two: THB 600

Address: Soi 22, Sukhumvit Road, Bangkok, Thailand

Contact Number: +66 20 662122 / +66 830 099 719

Hours: 11:00 AM – 3:00 AM
Along with serving delicious North Indian food in Bangkok, we have designed the interiors of the restaurant keeping in mind the traditional Indian style and culture.
So, if you are travelling to the country and facing a craving for North Indian food, don't forget to visit us to satisfy your hunger pangs.